FREE for SOM Members (please log in on the SOM website first). 1 CPD Hour.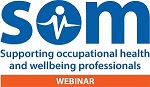 FREE for SOM Members (please log in on the SOM website first).
Exclusive webinar by Professor Gail Kinman on the recently-published report "Mental Health of Nurses and Midwives" co-authored by Dr. Kevin Teoh, and commissioned by the Royal College of Nursing Foundation.
The report is based on a systematic review of research that has examined the scale of mental health problems in the workforce and associated issues such as work-related stress and burnout.
Also identified are the occupational, organisational and individual difference factors that underpin the mental health of the workforce and the wider implications for the wellbeing of staff and patients. Interventions that have the potential to enhance the wellbeing of UK nurses and midwives are presented.
The webinar presents a series of recommendations for action from different stakeholders based on the review process and input from groups of midwives and nurses.
The report can be downloaded here.
Professor Gail Kinman is Visiting Professor of Occupational Health Psychology at Birkbeck University of London. She is a Chartered Psychologist and a Fellow of the British Psychological Society and the Academy of Social Sciences. Gail has published widely in the field of occupational health psychology, with a particular focus on the wellbeing of people who work in emotionally demanding professions such as health and social care staff, prison officers and teachers. Recent work focuses on developing and evaluating multi-level interventions to enhance resilience and wellbeing. This work has been used to inform wellbeing assessments and a national 'emotional curriculum' for health and social care professionals. Gail has been commissioned by bodies such as the Royal College of Nursing Foundation, the Louise Tebboth Foundation and the Society for Occupational Medicine to conduct national reviews of the work-related wellbeing of healthcare professionals. She is currently working with the British Psychological Society on guidelines to help organisations and individuals manage the demands posed by the COVID-19 pandemic and its aftermath.

This event is worth 1 CPD Hour.
FREE for SOM Members (please log in on the SOM website). You will then be sent a link to register on the Adobe Connect Webinar platform.
October 21st, 2020 12:00 PM to 1:00 PM