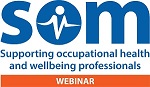 As part of SOM's education and training offer to its members, SOM hosts webinars through the year on topics of interest with subject experts to occupational health professionals. SOM webinars are web based, using the internet to connect individuals hosting the webinar to an audience of viewers and listeners from all over the world. Hosts can show slides and even invite guests from other locations to co-host the webinar with them. The SOM webinar platform offers interactive features that the audience can use to chat with the host - normally there is a Q&A session at the end to answer viewers' questions about the content from the presentation. 
OH professionals from the UK and around the world are welcome to join.
The webinars are free to members and £25 to non-members.
To hear a webinar live you will need to complete a simple registration form before each event. 
Details of upcoming webinars can be viewed here. SOM members can register for webinars here, non-members can register here.
If you would like to sponsor 1 or a group of 3 webinars please email admin@som.org.uk  
Non members can also purchase our entire back log of webinars for £99. contact admin@som.org.uk for details and a list.  
FREE COVID-19 THEMED WEBINARS
"How to support the mental and emotional well-being of clinicians on the frontline" -  Webinar recording here.
"Informing risk assessment of those more vulnerable to infection by COVID-19" - Webinar recording here. 
"Remote consultation - how to get a useful outcome when you are not face to face with the patient" - Webinar recording here. 
"Why Occupational Medicine? A Career in OH" - Webinar recording here.
Featured Image: