FREE Webinar. 1 CPD Hour.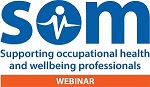 FREE Webinar
An exclusive overview of Occupational Medicine from an Occupational Health (OH) doctor's perspective.
The webinar will cover:
- A working day in OH including COVID-19,
- The paths of entry/training, as well as
- Future prospects of career progression and more!
- Q&A
Join us if you are unsure about your career, fancy a change in scope of practice (particularly as a GP) and to find out more about a relatively unheard specialty with a vast scope of work, very good salary and opportunities for intriguing subspecialties and cases! In light of the current Pandemic situation, it will also be covering the role of Occupational Medicine with Public Health Concerns such as COVID-19.
Dr Sarwar Chowdhury is a successful Occupational Health Physician based in Central London.
This event is worth 1 CPD Hour. Please register on the Adobe Connect Webinar platform here.
February 3rd, 2021 1:00 PM to 2:00 PM