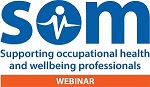 This free webinar will highlight the scale of presenteeism and the individual, occupational and organisational factors found to encourage such behaviour. Also considered is how the challenges of the pandemic have the potential to increase presenteeism. The wide-ranging costs of presenteeism will be highlighted and solutions provided to help organisations reduce its damaging effects during the pandemic and its aftermath.
Dr Gail Kinman will draw extensively on the guide she wrote for SOM that was published a couple of months ago. See https://www.som.org.uk/Presenteeism_during_the_COVID-19_pandemic_May_2021.pdf
Register on Eventbrite here and you will be emailed the Zoom join link.
November 29th, 2021 12:00 PM to 1:00 PM
External Event Details
| | |
| --- | --- |
| External Event URL | https://www.eventbrite.co.uk/e/presenteeism-risk-factors-and-solutions-for-employers-tickets-186658840617 |