FREE for SOM Members (please log in on the SOM website first). 1 CPD Hour.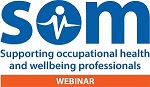 FREE for SOM Members (please log in on the SOM website first).
The webinar aims to:
- Raise awareness of the psychological challenges facing employees in political work
- Consider the impact of political work on mental health of those involved, including politicians and political staff
- Promote consideration of interventions aiming to improve mental well-being in political and in other public-facing occupations
- The webinar is designed for observers and participants in healthcare and politics, whether citizens, practitioners, politicians, political workers or journalists, as well as employees and managers. The topics discussed will be of interest to occupational health and human resource professionals, psychologists and well-being advisors and have direct relevance to those seeking to work with and influence policy-makers. As citizens in a democracy, the problems discussed in this webinar are likely to affect everyone.
Speaker: Dr Ashley Weinberg
Dr Ashley Weinberg is a Senior Lecturer in Psychology and an HCPC-registered Chartered Occupational Psychologist. He is as the inaugural Chair of the British Psychological Society Political Psychology Section and has produced a number of books on well-being in the workplace. Ashley, whose PhD in Psychiatry was titled 'Sources of stress in the National Health Service', conducted the first empirical study of the mental health of national politicians and he has continued to research and publish in this area, contributing to well-being initiatives in the UK Westminster and Scottish Parliaments.
Chair: Dr Gail Kinman
This event is worth 1 CPD Hour. FREE for SOM Members (please log in on the SOM website). You will then be sent the join link


February 8th, 2022 12:00 PM to 1:00 PM