FREE 1 CPD Hour.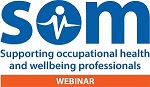 FREE
A free SOM webinar, Dr Lance Turtle, Senior Clinical Lecturer in Infectious Diseases at The University of Liverpool will update us on the latest developments in the COVID-19 vaccines programme. It will cover:
•Effectiveness overall
•Evidence for mixing different vaccines
•Effect of different intervals
•Waning
•Evidence for booster doses
•Update on effectiveness against variants
Lance Turtle is a senior clinical lecturer/honorary consultant in infectious diseases and Wellcome clinical intermediate clinical career development fellow. Lance works on emerging virus infections, particularly arboviruses, EV-71 and since 2020 SARS-CoV-2. Lance works on the immunological interactions and T cell cross-reactivity between flaviviruses, on the effects of SARS-CoV-2 on patients with cancer with ISARIC4C, and on the immunogenicity of COVID vaccines in real world use in healthcare workers with the PITCH consortium and UK-CIC consortia. Lance is a member of the NIHR Health Protection Research Unit on emerging and zoonotic infections, working on imported arboviral infections. Lance's work is funded by the Wellcome Trust, NIHR, MRC, and the UK Dept. of Health. Clinical interests include high consequence infections (eg MERS, VHF) brain infections and infections in immunocompromised patients.
Chair: Dr Vicky Mason
Sign up today for free!
This event is worth 1 CPD Hour. FREE to register. You will then be sent the join link


January 25th, 2022 12:00 PM to 1:00 PM