FREE for SOM Members (please log in on the SOM website first).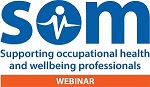 FREE for SOM Members (please log in on the SOM website first).
"It's the Economy, Stupid!* Why Occupational Physicians MUST take wider social factors into account."
Occupational physicians are well versed in the biopsychosocial model. We know that medical diagnoses do not predict disability, or whether a person is at work. We know that the individual's perception is the key determinant.
But there is strong evidence that using the biopsychosocial model at an individual level is no more valid than relying on the traditional biomedical approach. Major societal changes in the last 1-2 generations provide a more compelling explanation for current incapacity. We will explore these, and the implications for OH practice.
*Bill Clinton's second most famous quote.
Speaker:
Dr Charlie Vivian
Charlie Vivian is a consultant occupational physician. He set up Icarus Health Solutions in January 2012. He delivers contracted OH services to a variety of organisations.
Most of his clinical work focuses on complex cases. He has undertaken hundreds of independent medical examinations for income protection and total and permanent disability. He also provides ill health retirement assessments for a number of police forces, private organisations and the NHS.
For over 10 years, his key interest has been building his understanding on whether individual reactions to illness are more important than the medical diagnosis itself. However, he is increasingly convinced that wider social and political changes are the key factors for the explosion of incapacity rates in the last 30 years. This applies to both physical and psychological illness.
Chair: Dr Jeya Balakrishna
FREE for SOM Members (please log in on the SOM website). You will then be sent the join link.


May 24th, 2022 4:00 PM to 5:00 PM