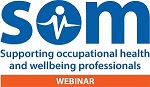 FREE for SOM Members (please log in on the SOM website first).
Dr Mike Oliver – Workplace Sleep Ambassador Programme Manager
Session title: Fatigue in the workplace - covering the importance of sleep, the impact sleep deprivation has on health and wellbeing and in the workplace, spotting the signs of fatigue in colleagues/employees and how to take action.
Bio: A registered Health Psychologist and Chartered Psychologist, Mike transitioned from working in the corporate sector to being a healthcare professional. Mike's view is that we spend so much of our time at work that collectively and individually we should be doing as much as we can to be healthy and happy during that time. In his corporate career, Mike held senior positions in large multinational organisations, primarily focusing on organisational change management. He retrained to become a Health Psychologist whilst working in a Public Health team managing an extensive workplace health and wellbeing programme. It was during this time that Mike heard from so many people and organisations about how sleep, or the lack of good sleep, was affecting health as well as productivity. The combination of organisational change management and growing expertise in the subject of sleep help to make Mike an ideal person to manage The Sleep Charity's Workplace Sleep Ambassador programme. He is really looking forward to working with individuals and organisations to help them make a success of their involvement in this important initiative.
FREE for SOM Members (please log in on the SOM website). You will then be sent the join link.


July 11th, 2022 12:00 PM to 1:00 PM