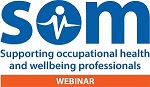 FREE for SOM Members (please log in on the SOM website first).
Speaker description:
Anli Zhou is an occupational physician currently undertaking a part-time PhD that focuses on the Determinants and Effects of stress in trainee doctors. More information about the PhD project (DEStress study) and the DEStress tool can be found on the following website: DEStress (wordpress.com)
Session description:
This webinar will be slightly different to the usual webinar format and will be split into 2 main parts.
- The first part will provide an overview of the project and the study results. This will be followed by proposed interventions based on the project results as well as a discussion around how the DEStress tool could be used.
- Many SOM members are occupational health professionals involved in trainee doctors' health and wellbeing, and therefore are important stakeholders in this project. Hence, the second part of the session will involve a stakeholder engagement process where the audience will be asked for their views and comments on:
-the project results
-the feasibility of the proposed interventions
-the DEStress tool and how it can be used
-what should be done to address stress and burnout in trainee doctor
FREE for SOM Members (please log in on the SOM website). You will then be sent the join link.


July 18th, 2022 12:00 PM to 1:00 PM