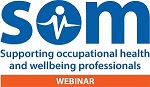 FREE for SOM Members (please log in on the SOM website first).
Speaker: Keith Young – Health Partners UK
Chair: Mike Goldsmith - Medigold Health
The session will cover:
- What a company needs to consider for its OH procurement needs - scoping
- Clarity on company/ OH company roles and responsibilities – building the procurement documentation
- Good content for a procurement document e.g. standards; quality
- Good procurement processes e.g. timelines/platforms/ keeping it simple and not over complicated
- Benefits of an effective procurement process
- Once the contract has been awarded the value of positive relationships – trust, commitment, interdependence, cooperation, communication, joint problem solving etc
- Performance measurement and evaluation
- Views on innovation in procurement processes
Bio: Keith Young has worked in the Occupational Health Market for nearly 15 years as a Business Development Director for a number of national OH providers. He has experience of working closely with multiple organisations (in the Public and Private sectors) in helping them maximise the value they can receive from their OH provider. Previous to this, Keith has held a number of senior management roles working in the UK, Ireland, South Africa and in Europe.
Outside of work Keith has led a number of expeditions into Africa and has trekked extensively throughout Botswana (with the San Bushmen), South Africa, Kenya, Lesotho, Malawi, Namibia, Swaziland, Zambia and Zimbabwe. He has also participated in expeditions in Antarctica where he was part of the 'Beyond Endurance Expedition' retracing Shackleton's footsteps in his escape from Antarctica in 1916.
FREE for SOM Members (please log in on the SOM website). You will then be sent the join link.


November 21st, 2022 12:00 PM to 1:00 PM