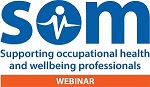 FREE for SOM Members (please log in on the SOM website first).
Aims of this exclusive SOM webinar are:
To explore the definition of burn out
To explore the concept of burn out due to its ambiguity in certain areas (ie relationship with depression)
Explore the process of burn out relating to Hans Seyle's process of stress.
Explore the role of the occupational health physician and nurse in supporting/treating the employee with burn out or in the process of burn out.
Alan Dovey is a consultant cognitive behavioural psychotherapist and honorary clinical lecturer at the University of Birmingham. He is consultant cognitive behavioural psychotherapist for West Midlands Fire Service, Lincolnshire Police, Jaguar Land Rover UK Ltd (1999-2021) and Western Power Plc. His area of specialised interest is occupational mental health and the development of effective systems of treating clients within organisations using an integrated approach.
Chair: Prof. Gail Kinman
FREE for SOM Members (please log in on the SOM website). You will then be sent the join link.


July 13th, 2022 12:00 PM to 1:00 PM