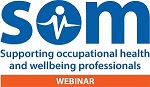 FREE for SOM Members (please log in on the SOM website first).
Summary of Webinar
In this exclusive webinar, Owen Bubbers Jones will introduce the concept and rationale for mediation in the context of OH.
He will show how mediation can be an effective route to reducing challenging stress cases – especially when these may be rooted in interpersonal difficulties.
Owen will show what to look out for when assessing whether mediation could be a beneficial tool for your clients, and how to communicate this service effectively.
Biography
Owen is a conflict management and training specialist, supporting ambitious organisations to develop an internal culture of collaboration, growth and mutual trust.
He is also particularly passionate about enabling providers and practitioners to position themselves at the cutting edge of holistic and integrated OH through offering innovative and effective conflict resolution solutions to clients, in particular mediation.
Since 2014, Owen has served a wide variety of organisations - from FTSE100 financial services companies to NHS trusts and government departments.
He is an accredited member of the Civil Mediation Council and was awarded 'Mediation Champion of the Year' by the UK Professional Mediators' Association in 2015.
FREE for SOM Members (please log in on the SOM website). You will then be sent the join link.


September 13th, 2022 12:00 PM to 1:00 PM