FREE WEBINAR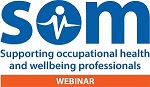 FREE WEBINAR
SOM in partnership with ANZSOM - Free
Exclusive webinar on mental health at work and "It pays to care" report.
9.00am Dr Mary Wyatt - It Pays to Care https://www.racp.edu.au/advocacy/division-faculty-and-chapter-priorities/faculty-of-occupational-environmental-medicine/it-pays-to-care 25 minutes plus questions
9:30am Professor Neil Greenberg, Professor of Defence Mental Health, King's College London – Mental Health at Work – 25 minutes plus questions
10.00am Dr Shriti Pattani, President SOM - the role of occupational physicians in acute hospitals and the NHS Growing OH programme 20 minutes plus questions
FREE to register. You will then be sent the joining link.


September 7th, 2022 9:00 AM to 10:30 AM