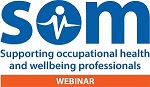 FREE for SOM Members (please log in on the SOM website first).
In this presentation Dr Nick Jenkins will provide a background to DVLA processes and discuss how the recent amendment to legislation which will allow for reports to be provided to DVLA by healthcare professionals other than doctors is likely to impact upon that process.
Speaker Bio:
Dr Nick Jenkins is the Senior DVLA Doctor and has worked at DVLA since 2015. He previously worked for 24 years as an Emergency Medicine (A&E) Consultant in South Wales and continued to undertake clinical work in this capacity until 2018.
It is important that the liaison between DVLA and all clinicians is such that the individual's driving lifetime is optimised so as to allow the individual to enjoy the various benefits conferred by driving, whilst still maintaining both their own safety and that of others. As such, one of Nick's personal objectives in the role of Senior DVLA Doctor is to reach out to healthcare professionals and to provide clarity with regard to DVLA processes.
Chair: Dr Massoud Mansouri
FREE for SOM Members (please log in on the SOM website). You will then be sent the join link.


September 5th, 2022 1:00 PM to 2:00 PM