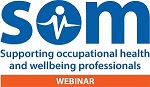 FREE for SOM Members (please log in on the SOM website first).
Summary:
The proliferation of smartphone applications aimed at improving occupational health, safety, and wellbeing (OHS&W) is on the rise, yet research in this domain remains limited. This presentation sheds light on an ongoing research project investigating the use of occupational health and wellbeing apps from diverse perspectives.
The session will provide findings from a recently conducted review that maps the landscape of occupational health and wellbeing apps. Emphasis has been on assessing the extent to which these apps are grounded in research and the degree to which they have undergone scientific evaluations.
Moreover, the presentation will offer insights gleaned from two ongoing studies, one qualitative and one quantitative. The qualitative study delves into the decision-making processes and the logics used by managers and internal HR/WE consultants responsible for either developing or selecting smartphone apps. Meanwhile, the quantitative study analyses data from an app provider to identify potential shifts in wellbeing within a segment of the Danish working population during the COVID-19 pandemic. This investigation serves not only as a study in its own right but also explores the viability of leveraging app data for research purposes.
Presenter:
Iben Karlsen, PhD, Anthropologist, Researcher at The National Research Centre for The Working Environment, Denmark
Iben has worked with safety and psychosocial work environment for the last ten years, and is doing research on safety (culture), violence and threats at work, implementation, evaluation, technology, and lately on board of directors role in improving occupational health.
Research group:
Professor Reiner Rugulies
Associated Professor Johan Simonsen Abildgaard
Research Assistant Sandra Nielsen
Chair Dr Steve Boorman
FREE for SOM Members (please log in on the SOM website). You will then be sent the join link.


November 28th, 2023 4:00 PM to 5:00 PM