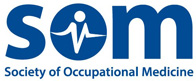 Closing Date
2019-03-22 00:00:00
Location
Central London
Organisation
Society of Occupational Medicine
Membership and Appraisal Co-ordinator - SOM
The Society of Occupational Medicine is a professional body made up of health professionals who help people stay in work and live full healthy lives. They help employers by reducing sickness absence and produce an Occupational Medicine journal that communicates best practice in workplace health amongst other member benefits.
We are looking for an efficient and well organised individual to fill this challenging role. The role will be split between managing the day-to-day operation of SOM's Quality Assured Appraisal Scheme and supporting membership retention and recruitment. Day-to-day duties of the role will also include acting as a point of contact for all appraisal and membership enquiries, processing appraisal and membership applications including payments, as well as running regular statistical reports, collating evaluation data and providing feedback to appraisers. You will also have the opportunity to assist with preparing for national scientific meetings, and membership events, with the opportunity to attend exhibitions and conferences.
The successful candidate will have proven administration experience within a membership organisation, or similar, and have strong experience of using CRM/CMS systems ideally CiviCRM. It is essential to have exceptional written and verbal communication skills, with the ability to build relationships at all levels and you must have excellent attention to detail. This role is ideally suited to a strong team player, with an interest in being part of a high-spirited and engaging team. Educated to degree level or equivalent is required, and experience of using Excel and Sage is desirable. Flexibility to travel to UK based events is required.
A full job description will be provided to candidates short-listed by us.
Interviews are scheduled for 1 April 2019 or earlier.
Please apply by submitting your CV in Word format to admin@som.org.uk.
Salary: £25K
Closing Date: 2019-03-22 00:00:00