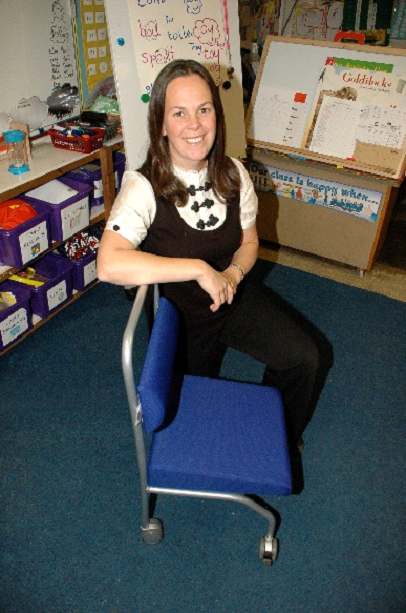 Lorna Taylor
Tell us about yourself?
I'm Lorna Taylor, a chartered physiotherapist specialising in paediatrics, occupational health (OH) and ergonomics. I work within the education sector raising awareness of musculoskeletal (MSK) health and wellbeing for teachers and children, particularly within early years and primary settings. I've created the company "Jolly Back" to provide a reference point for resources which promote MSK health and products to help prevent and treat musculoskeletal disorders (MSD) within education and childcare....
I'm the UK Ambassador for ENETOSH (the European Network for Education Training in Occupational Safety and Health). I've taken part in research (and ongoing) with the University of Derby and have proudly been a stakeholder working with the Early Years Alliance and HSE on new guidance "Preventing Musculoskeletal Disorders in the Early Years Workforce". I'm an active campaigner for improved working practices and health and wellbeing within schools, and passionately believe healthy, happy teachers can give and get the best from their pupils, helping to improve children's outcomes and learning experiences.
How did you get into this career?
Whilst delivering "healthy back teaching" to primary school children as part of the Derby City Healthy Schools initiative, it soon became apparent teachers and support staff were struggling with the challenges of low level working at "child height" in terms of posture and pain as I received questions for physiotherapy advice everywhere I went. When we had a closer look at their working environments and seating – frequent twisting, awkward bending over low tables, sitting on children's chairs, kneeling on the floor etc., I realised I needed to do something to improve things by putting into action my physio and ergonomics knowledge.
What qualifications are needed?
I have a BSc (Hons) Physiotherapy degree and a lot of passion!
What is a typical day for you?
Every day is very different, from writing articles for education, OH or childcare magazines, researching, liaising with customers, developing products and networking with others working within OH in education – there are not many of us yet!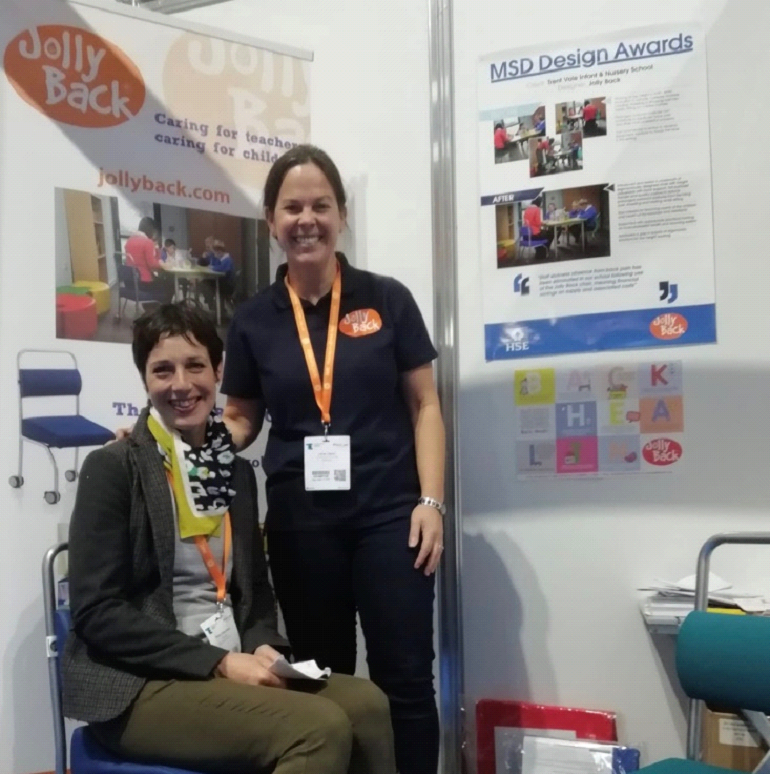 Today started with a call discussing a potential university short online course on MSK wellbeing in early years. I thrive on the variety, each day is brilliantly flexible and I'm pleased to say fits well around the needs of our family.
Best part of job?
Getting super customer feedback saying how we've improved working and home life as teachers are not in pain anymore and have more energy at the end of the day. I also love hearing how teachers say they feel appreciated and that they are more patient with the children in their class too. I feel proud knowing we are supporting children's education.
Most challenging part of job?
Convincing the wider education sector about the numerous and far-reaching benefits of OH investment for staff and pupils.
Why would you encourage someone to choose this career?
Being a physio is the best job in the world! It's so flexible, you soon become multi-skilled and able to work in different areas depending on where your passion takes you. As an OH professional you are making a difference and part of a brilliantly supportive and professional community. 
Any final advice?
Think creatively and apply for awards in your chosen field as a way of sharing good practice – they also lead to other things. When Jolly Back won an HSE – Risk Reduction Through Design Award it led to national early years guidance being written with the HSE, Early Years Alliance and University of Derby. 
---
Paul Scallan
About Paul:
Paul works as a Clinical Lead Occupational Health Physiotherapist for IPRS Health and is a committee member for the Association of Chartered Physiotherapists in Occupational Health and Ergonomics (ACPOHE). After graduating in UCD, Ireland, he worked in a variety of settings including NHS outpatients and community, sports physiotherapy, and private practice before working on corporate health with IPRS Health. It was the challenges involved within occupational health (OH) where Paul developed his passion in improving MSK health and wellbeing in the workplace. In 2017, Paul completed post graduate training in OH, where he is an accredited Occupational Health Physiotherapist (Reg. M. ACPOHE). Paul has a special interest in low back pain and supporting employees to return to work after periods of absence. This led to him to enroll at Manchester Metropolitan University (MMU) in 2019, where he recently submitted his Master of Research in the area of low back pain and work. ...

How did you get into this career?
I got involved in occupational health (OH) accidently! After relocating from London to Cardiff for family reasons, IPRS Health offered me a physiotherapist role at the Ford Engine Plant in Bridgend, Wales. It was here that I gained invaluable experience and interest into the area of OH. This interest led to my continued studies in OH along with my promotion as the IPRS Health Clinical Lead of Occupational Health Physiotherapy Services.
What qualifications are needed?
Physiotherapists in the UK must have a BSC in Physiotherapy and be registered with the HCPC. There is no formal qualification required for physiotherapists to work in OH, however the Association of Chartered Physiotherapists in Occupational Health and Ergonomics (ACPOHE) provide several pathways to increase expertise in OH. These range from a technical registered member to a fully registered ACPOHE member. This registration consists of an extensive training pathway to increase competency in OH. Details here
What is a typical day for you?
Every day is different which is why I love this role. It is a combination of clinical appointments (remote, face-to-face), workplace assessments, functional capacity evaluations (clinic or at workplace), meetings with clients (remote or at workplace) and completing reports/admin (clinic and home). Working in OH is a dynamic role and requires one to be happy to commute, meet lots of different stakeholders and come up with plenty of proactive ideas to prevent absence/presenteeism in the workplace.
Best part of the job?
Variety – being able to complete a variety of services including workplace assessments, functional capacity evaluations, standard physiotherapy rehabilitation and working on health promotion projects makes the job much more enjoyable compared to a revolving door of non-stop patients! Another satisfying part of this role is the autonomy to develop projects to prevent illness/injuries in the workplace. This encourages one to be proactive, innovative and resilient in order to develop exciting new services in the workplace.
Most challenging part of job?
Managing complex patient cases where there other 'issues' between the patient and employer. Also, working in OH means you may have to make difficult decisions in relation to fitness for work that the patient and/or the employer may not always agree with.
Why would you encourage someone to choose this career?
If you are passionate about making a wider impact via preventative services, this is a great career. Also, if you like variety and completing lots of different services, this is the perfect role!
---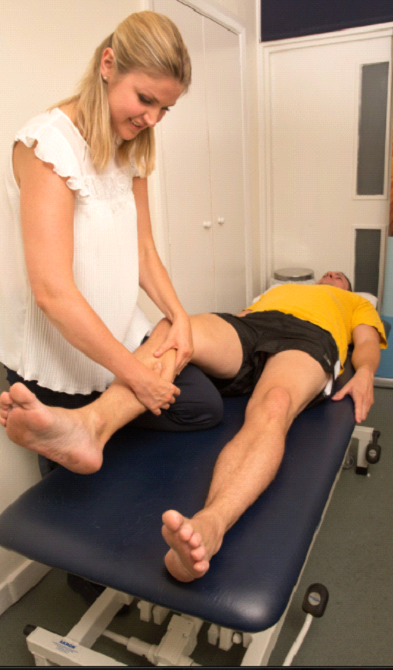 Clare Henson-Bowen
Tell us about yourself?
I have been practicing as a musculoskeletal (MSK) physiotherapist for over 15 years after qualifying at Coventry University in 2005. I worked initially within the NHS and specialised firstly into MSK care, and later occupational health (OH) in 2009. I took a fantastic opportunity to set up an embedded Occupational Health Physiotherapy Service at King's College Hospital and it seemed a great clinical move for me as I really enjoy functional restoration and helping my patients to return to their normal activities, such as work. Here I completed several Association of Chartered Physiotherapists in Occupational Health and Ergonomics (ACPOHE) training courses as well as a Post Graduate Diploma in Occupational Health (Policy and Practice) at Cardiff University
...
In 2014, I left the NHS and started my own private occupational health physiotherapy company called Bespoke Wellbeing which now offers face-to-face and virtual physiotherapy, display screen equipment (DSE) assessments, ergonomic assessments, and fitness to work assessments across the UK. We have been recognised at the Great British Entrepreneur Awards, the Occupational Health and Wellbeing Awards, the Zenith Global Health Awards, and the Natwest Business Accelerator Programme.
How did you get into this career?
I decided to become a physiotherapist as I really love problem solving, working with people, and helping them to live the life they really want to. I developed a passion to work with more persistent health conditions; the scope of OH often involves assessing and treating employees with injuries which are taking longer to improve or are affecting their work on a regular basis. The clinical 'fit' was perfect once I moved over to OH in 2009.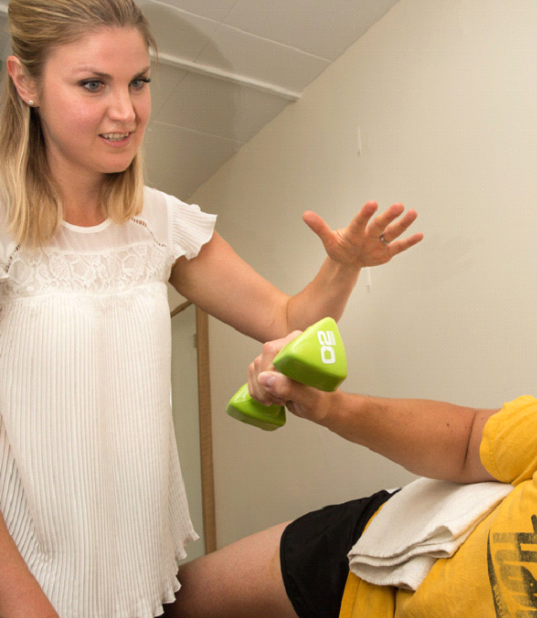 What qualifications are needed?
To become a physiotherapist you need to complete a degree level qualification in physiotherapy. There are also two-year accelerated MSc courses available to people who already have a BSc degree in a relevant subject.
What is a typical day for you?
My job is a real mix of interesting patient facing activities. I complete fitness to work assessment to help employers support their staff to return to work, improve attendance, or better manage a health condition. I also deliver physiotherapy treatments to help our patients (i.e. staff) reduce pain symptoms, improve functions, and support them to manage their injury or health condition in the workplace. Lastly, I also complete workstation and workplace assessments to advise on ergonomic equipment, return to work plans, and any other recommendations that may be beneficial to support staff in the workplace. Outside of clinical appointments, I am often also speaking to other members of the multidisciplinary team and referrers to discuss appropriate referrals into our services and updating them on how treatments are going with our reporting templates.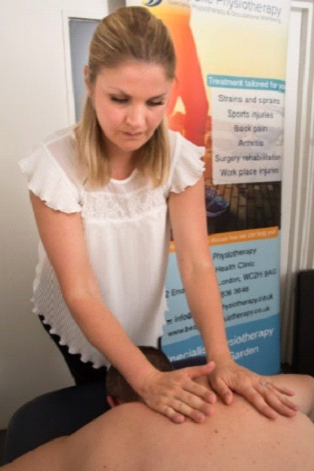 Best part of job?
The best part of my job is helping the patient (i.e. staff member) get back into the workplace, feeling much better, and more confident they can manage in the workplace. The transformation our patients go through is truly fascinating to watch and is so rewarding to see.
Most challenging part of job?
The most challenging part of my job is recognising that there will always be some patients you are unable to fully help and that this is okay. Physiotherapists often have an 'I need to sort and fix this'... but sometimes patients do need other interventions or the timing is not right for them to engage in the advice you are recommending. And this is actually okay.
Why would you encourage someone to choose this career?
I think physiotherapy is a fantastic career as it is so varied, no two days are the same. In the scope of OH, this also gives you another layer of specialism where you can become part of a clinical team, get to network and speak with a range of referrers, understanding additional areas such as employment law (for example), and additional clinical skills such as fitness to work assessments, DSE assessments, and vocational assessments/rehabilitation.
Anything final thoughts?
Since COVID-19 hit in March 2020 we have seen our core OH physiotherapy services pivot to support our customers with virtual care, which has been incredible to see develop, grow, and gain traction. Our clinical practice has adapted, and we are now able to reach customers across the UK and help those with employees in hard to reach areas.
---