Posted by Ann Caluori | Fri, 08/03/2019 - 13:02
Guest blog by Dr Kathleen Lin, Occupational Health Specialist Registrar, King's College Hospital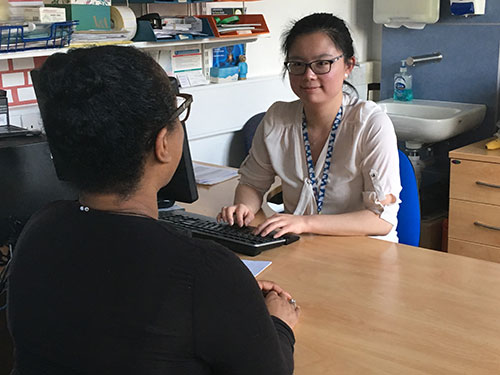 I am now two months into my specialist registrar training in Occupational Medicine. I often get asked about how and why I decided that I wanted to pursue my career in this specialty, and I would like to share my journey here.
After qualifying as a doctor and completing foundation training, I became an Acute Common Care Stem (ACCS) Acute Medicine Trainee. When I first started, I was excited about seeing many patients with acute conditions and trying to get them better quickly. During my training, I rotated through various specialties, including Cardiology, Respiratory, Renal, Intensive Care and Anaesthesia. I did enjoy it and the experience was invaluable, but I did not feel that it was something I wanted to do long term.
Before I knew it, it was almost time for specialty training application. To help me with my decision, I started to ask myself why I wanted to do medicine in the first place. I thought about it carefully and realised that, not only do I enjoy medicine as a subject, but I also really want to help people. Before you think what nonsense I am talking about, of course I know the medicine I was practicing already is helping people. However, I came to realise rather sadly that due to the nature of most hospital medical jobs being very fast paced, there is very little time available to spend with each patient to communicate with them humanely. Over time without knowing, I gradually became a physician who was just treating the disease, rather than seeing the person and treating them holistically.
When I was seeing patients in the hospital I came to appreciate that their admission is usually a very small part of their life, whereas for most people, a significant proportion of their time is spent at work. Together with a growing population living with chronic illnesses, it means these patients spend most of their time managing their condition in the workplace. Whilst an ACCS trainee I also recognised the impact ill health can have on a patient's ability to work and hence their life due to the financial implications. For example, I saw a single mother who works as a taxi driver presenting with a seizure and I advised she could not drive until further investigations or advice from a specialist. She became understandably upset because her young children depended on her income. I really wanted to help her, but at the time I was unsure where to sign post her or how to support her other than being very sympathetic of her situation. This was compounded by the lack of time I had to try and assist her. I felt very helpless that although she was well from the acute medical perspective, she had been left to deal with the consequences on her work and life. Therefore, on reflection, I think my interest in my patients' lives outside of the hospital was growing over the years.
Whilst speaking to various people about options in specialty training, I came across an occupational medicine trainee. He was very helpful in giving me an insight into what occupational medicine is about. I remember he mentioned part of his work involved doing workplace visits for health risk assessments, and this opportunity to observe and understand what various workers do in their working environment really attracted me, which led to me exploring this field further.
I arranged some time to observe and understand occupational medicine further through the NHS and Transport for London. The experiences I had were wonderful, because I was amazed with the extent in which medicine can be applied outside of the hospital setting, and how ignorant I was prior to this on the impact of health on working lives, and the help that can be offered to support them back to work. Furthermore, I was pleased that the consultations were longer, so that you have adequate time dedicated to communicating and managing the person holistically, rather than being fixated on the diagnosis. I find it fascinating that I can learn so much detail about the person's work because of the time allowed in the consultation, and it is not just for curiosity, but it forms an important part of functional assessment. From these experiences, I discovered that I was very interested in learning about the relationship between health and work.
In addition to the longer time spent with patients and learning about people's work, I couldn't help but notice that various health professionals I met in occupational health were all very friendly and happy, which I can only assume means this specialty is very rewarding, hence I made the decision to apply!
My successful application into occupational medicine has been life changing, and I enjoy my work every day. Despite being new, my training so far has allowed me to appreciate that each employee is valuable. It is important to keep them healthy at work for both the benefit of the employee and the employer. I am enjoying the holistic approach in my work now; it is not just about treating the disease, but emphasis is also on prevention, maintaining wellbeing and health promotion. Our work does not only deal with individual employees, but it also has a great impact on the whole workforce. I look forward to the rest of my journey in occupational medicine and the many exciting opportunities it will bring.