Posted by Natalie Elmitt | Wed, 15/02/2017 - 08:36
Welcome to the new SOM website! In order to renew your membership and access the full benefits of the members area, please follow the steps below.
How to renew?
Creating a website login and filling in the renewals form. These are both done on the same page, www.som.org.uk/membership

You will see 4 different levels of membership. Please select the type of membership you would like to renew. For members who wish to pay via direct debit, please choose the membership you desire with the 'direct debit' option afterwards, e.g.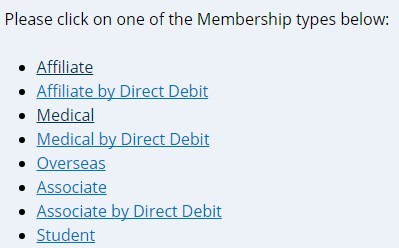 Once you have selected the type of membership you wish to hold, you will be able to make your payment for 2017. You may pay by Credit or Debit card, or send a cheque. Alternatively, you can set up a Direct Debit with us (you will receive £10 off your subscription by setting up a Direct Debit).
How to resign your membership?
To resign your membership, please e-mail membership@som.org.uk and we will shut down your membership for you and any associated direct debit accounts. You will receive e-mail confirmation when we have closed your membership down.
How to move to a different membership category?
For SOM members who would like to move to the retired category, please e-mail membership@som.org.uk and we will change your membership category for you (NB, this option is not open to new members, only currently existing members).
How to update my membership preferences/details?
You can update your membership preferences at any time within the members area. Simply click on 'member home', then 'user details' and then 'view/edit membership preferences'. There are multiple pages of different membership preference options that can be edited. Please do take this opportunity to update your membership preferences, particularly if you would like to be contactable either within the handbook (viewable by SOM members only) or for job opportunities via the OH Professional List.
How to change my regional group?
Please e-mail membership@som.org.uk and our membership administrator will change your SOM region for you and inform your new group secretary that you have joined their group.
I have forgotten my password?
If you have forgotten your password, a new temporary password will be emailed to you if you choose the 'request new password' option on the members login page:

How do I apply for an appraisal?
The Appraisal application page can now be found within the members area. Please press on the 'tools for appraisal and revalidation' option and then 'request an appraisal'.